About Our Company
Welcome to the Official Site of As Seen On TV, Inc
Here you'll find thousands of innovative new products that make life easy. Our best sellers include Arctic Air, Ever Brite, One Charger, Turbo Scrub, and many more of your favorite as seen on tv products!
With a focus on family, fun, and value, we've created a unified, customer-centric shopping platform that helps consumers find the products they want, and helps sellers reach new buyers who are eager to bring your products into their homes.
And we're glad you're a part of it!
Why buy from us?
We launched this site as a "reboot" of the way TV products are sold online, and to blend our printed catalog with a technology-enabled online marketplace. All of our products are accessible from one place no matter what warehouse they're shipping from, and access to live order statuses, customer service, and even returns and RMA's are just a click a way. That means no more "Where's my order?" phone calls, no hidden shipping charges, no jumping through hoops to remove unwanted items from your order, and no trouble returning items you aren't happy with. We've simplified the process from top to bottom.
Convenience and Security
With all of your favorite products in one place, there's no reason to hunt down the stand-alone product sites advertised on TV. Our entire site is run using full time SSL, which encrypts all activity to protect your privacy and ensure your shopping experience is safe and reliable, and works on all mobile devices too. We accept all major credit cards, and automatically notify you of order status changes so you'll always know where your items are and when they're arriving.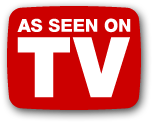 How to Contact Us
Since our products ship from multiple locations, if you are an existing customer inquiring about an order use our Help page for the fastest service. This system will automatically route your inquiry to the warehouse your items shipped from.
Order-Related Inquiries
Create a help ticket
Other Inquiries
You can email us at [email protected]
Corporate Address
As Seen On TV, Inc.
2519 McMullen Booth Rd
Clearwater, FL 33761
* This address is for corporate and legal correspondence only, and cannot accept product returns. See our return policy page for help finding the correct address for returns.