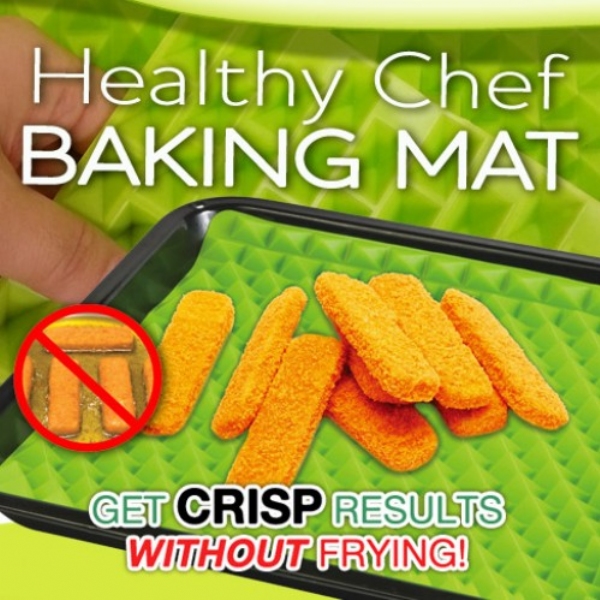 Healthy Chef Baking Mat

2 reviews
---
List Price:$16.99
Price:$9.99
You Save:$7.00 (41%)
A Non-stick raised silicone mat with 351 raised contour allowing drainage.
Allows fat and grease to drain away
Cooks evenly
Non Stick Raised Contoured Mat
Product Description
Healthy Chef Baking Mat is a non-stick raised silicone mat which has 351 raised contours which allow fat and grease drain to the bottom giving crisp results. The Healthy Chef Baking Mat allows air to circulate, so food never comes in contact with the bottom of the pan and is cooked evenly. The Healthy Chef Baking Mat seen on TV is 11"x17" and can be trimmed to any size, made of 100% food grade silicone, oven safe up to 428 degree F, safe for micro wave use, dishwasher safe and rolls up for easy storage in any drawer. Can also be used as a trivet, pot holder, or a drying rack.


Customers who bought this also bought
Healthy Chef Baking Mat Reviews
Healthy Chef Baking Mat Reviews

by S.A. on 09/30/2014
I have only used the mat a few times so far; however, I was amazed at how good the food crisped up. I have used it for fish sticks, chicken tenders and french fries. I HATE soggy fries, but I'm trying to eat somewhat healthier; I used the mat, spritzed the cut potatoes with olive oil and some seasonings then let the potatoes cook. Yummm and very crispy. I am impressed and will continue to use my amazing mat.
2 people found this helpful. Was this review helpful?

by A.S. on 08/17/2016
Not happy with it. Pain in the neck to clean, and doesn't seem to make foods any crispier than cooking any other way. Would not recommend it.
Was this review helpful?
Rating Summary

18 total ratings
| | | |
| --- | --- | --- |
| 5 star | | 66% |
| 4 star | | 27% |
| 3 star | | - |
| 2 star | | 5% |
| 1 star | | - |
All ratings are from verified customer purchases.
Customers who viewed this item also viewed
Your Recently Viewed Items